Reading from bottom to top this is a brief account of our western adventure.  
September 2012
September 30: HOME!
September 28 Evening stopover in Albuquerque
Got to spend the night at the Hotel Parq Central - a former hospital for employees of the Atcheson Topeka and Santa Fe Railroad.  My grandparents left Cleveland Ohio in the early 1900s to live in Albuquerque so my grandfather Linn Collins could work on the railroad and they had their 2 sons while living there.  Always a mystery to me why they went all that way.  Beautiful hotel with lovely displays in the halls and a poster of a postcard on the wall in our room - sort of a way to tie our trip all together:
~~~~~~~~~~~~~~~~~~~~~~~~~~~~~~~~
September 28: Jeep Tour of Canyon de Chelly
Up early to catch our private (it turned out) jeep tour into the canyon with Maureen, a Navaho who lives summers in the canyon and winters up above in Chilne so her 5 children can attend school.  She drove through dusty rutted roads and showed us petroglyphs, ruins, and pictographs on the canyon walls.  A very interesting and bumpy ride.

~~~~~~~~~~~
September 27: Chilne Arizona and Canyon de Chelly on Navaho Indian Reservation
Drove through lots of high desert on Indian Reservations today.  Beautiful scenery and very desolate.  Arrived in Chilne and arranged for a jeep tour in the morning.  Navaho tacos for huge dinner tonight. 

~~~~~~~~~~~~~~~~~~~~~~~~~~~~~~~
September 24-26: Utah
Beautiful Utah!  We thoroughly enjoyed the spectacular scenery in Zion National Park:

Up early one morning and got to see a little herd of Big Horn Sheep amidst more beautiful rock formations:
Took several hikes that made me appreciate the agility of the Big Horn Sheep on the sides of the rock cliffs.  The one here was really along the edge - Buzz made it to the overlook but I freaked out halfway there and stopped under this overhang.  I took this beautiful photo.  See if you can spot Buzz as the tiny person continuing the hike across the way:
That afternoon we drove a couple hours to Cedar Breaks National Monument - so glad we did!  We viewed the canyon from the rim at 10,000 feet and the air was a little nippy.  The scent of the fir trees was wonderful.  Saw deer feeding in several areas and some hunters checking them out.  For me I think Cedar Breaks was the most memorable place because of the beauty and the smells and we had it almost all to ourselves (except for that person behind me there taking a picture).
~~~~~~~~~~~~~~~~~~~~~~~~~~~~~~~~~~~~
September 21-23: Glendale CA postcard show
Spent the weekend doing the postcard show near Los Angeles - lots of sales and nice people.  We did very well as the new kids on the block.  Wondered how our lives would be different if we had stayed here in 1967.  Glad we didn't.  We left the smog (not too bad actually) on Sunday and got to Barstow for a taste of Route 66.  Here is the postcard dealer counting his money.  :)
~~~~~~~~~~~~~~~~~~~~~~~~~~~~~~~~~~~~~~~~~
September 18-20: Campbell CA with Scott and Tonya 
Spent a couple of days visiting Scott and Tonya - enjoying the vegetable dishes that Tonya had made, seeing the cabinets that Scott had made, eating at some local restaurants, and working in the front yard.  We had a great visit and all worked very hard to level, weed and  clean up the front yard.  Roto-tiller and dump truck were rented to help.  I think we are all going to be sore for a couple of days!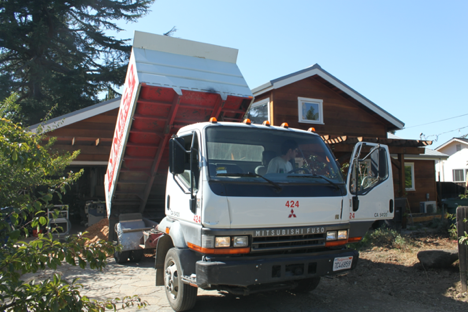 ~~~~~~~~~~~~~~~~~~~~~~~~~~~~~~~~~~~~~~~~~~~~~~~~~~~~~~~~~~~~~~~~~~~~
September 16-17: Yosemite
Arrived in Yosemite National Park yesterday amid lots of other people.  For some reason we had thought it wouldn't be very crowded this time of year but….. beautiful weather and a Sunday afternoon resulted in lots of cars.  We are staying at the wonderful and historic Ahwahnee Hotel in Yosemite Valley.  It has been a lifelong thing on my "bucket list" since we first came to Yosemite in the 1960s.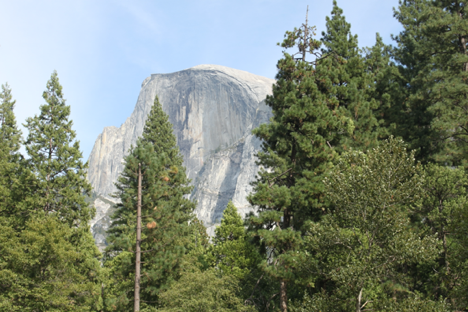 After a spectacular drive up Tioga Pass and around Tuolomne Meadows we checked into the hotel and explored and hiked the area close by.  Had dinner reservations for 5:45 so not much time before we had to get dressed up for our only dressy evening on this trip.  Dinner was delicious as was the service.  The dining room is quite a sight:

Up early Monday for coffee outside and got to see some deer that walked by up close.  Yosemite Falls was dry - typical for this time of year they said.  Had a wonderful breakfast and off on the shuttle to El Capitan area to hike along the river, take pictures, check out the rock climbers and enjoy the huge meadow area.  
In the afternoon we took a guided tour of the hotel to learn about the history and architecture.  Interesting factoid - the exterior "wood" on the Ahwahnee is actually wood-textured concrete stained with acid to look like wood.   
~~~~~~~~~~~~~~~~~~~~~~~~~~~~~~~~~~~~~~~~~~~~~~~~~~~~~~~~~~~~~~
September 13-15: Crater Lake National Park
Stayed 2 nights at Crater Lake Lodge - historic and lovely with nice lobby and lots of rocking chairs overlooking the very blue and deep Crater Lake.  The room turned out to be a handicapped room and was huge compared to Paradise Inn room.  We sat out on the rocking chairs both evenings and also up early to grab some coffee and watch the lovely sunrise at the same spot - highlight of the day.  On Friday we took a boat tour on Crater Lake - had to hike down into the "caldera" 1.1 mile for the very informative 2 hour boat tour with another Ranger Dave and Captain Andy.  Saw things up close -Wizard Island, Phantom Ship, Pumice Castle and AN EAGLE!  Strenuous hike up afterward.  Drove around the rim and stopped several times for picture taking.  Very nice dinner in the lodge dining room and then outside for star gazing in the evening.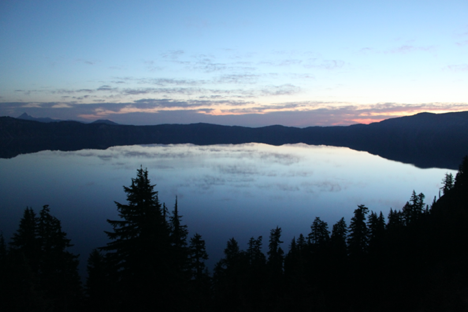 ~~~~~~~~~~~~~~~~~~~~~~~~~~~~~~~~~~~~~~ 
September 11-12: Mt Rainier National Park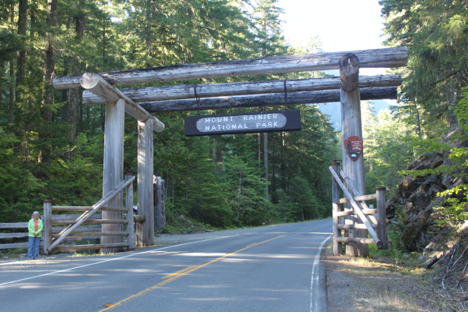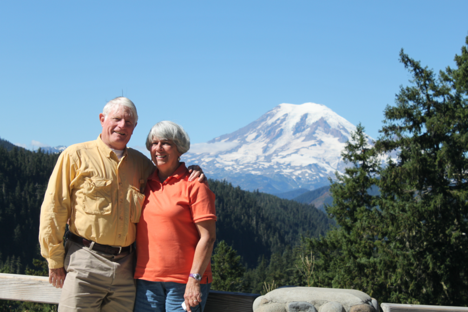 Tiny room at Paradise Inn.  Large common room lobby with piano player every evening.  We hiked to Myrtle Falls and Buzz saw a couple of deer in the morning.  Wildflowers in meadow were still pretty even though they said it was late.  Hiked with Ranger Dave (retired teacher) and learned about glaciers and volcanoes on the Nisqually Loop trail.
~~~~~~~~~~~~~~~~~~~~~~~~~~~~~~~~~~
Sept 6-10: Idaho - Worley, Plummer and Coeur d'Alene for 5 days.  
We saw the annual burning fields of grass, stayed in the beautiful new wing of the Coeur d'Alene Indian tribe's casino hotel (www.cdacasino.com)  and ate in their new steakhouse.  Did not gamble much - too smoky - but Buzz tried the penny slots.  

Visited our 40 acres near Plummer and hiked around to see how our trees were doing - very well, thank you.  Found scat and a pair of furry paws as well as lots of wildflowers, mature and baby Douglas Firs, Western Red Cedars, Ponderosa Pines and Larch.  Talked to our forester consultant Matt Engberg who said we probably saved some trees by participating in the Tussock Moth spraying in June.  Stopped by the Idaho Bureau of land and got updates from our pal Steve Covalla about the trees (lumber prices are down) and wolves (doing well and taking up residence nearby).  Steve told us about painting a square of red or orange paint on our trees at the entrance to indicate "No Hunting" and "No Trespassing" so we bought a can of spray paint.  Had a visit with neighbor Al Randall and commiserated over the clear cutting being done nearby by Stinson Lumber.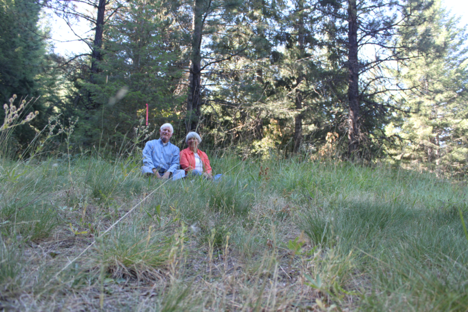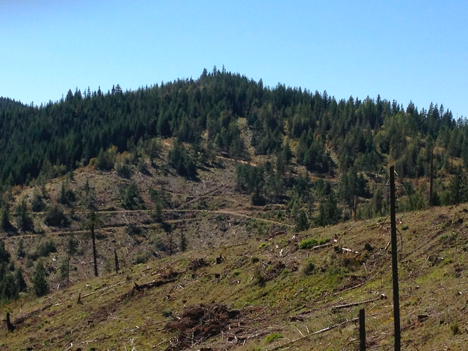 Down to Moscow Idaho had breakfast at the Breakfast Club Restaurant and walked around a huge Saturday market where lots of vendors were selling organic produce, crafts and musicians were playing.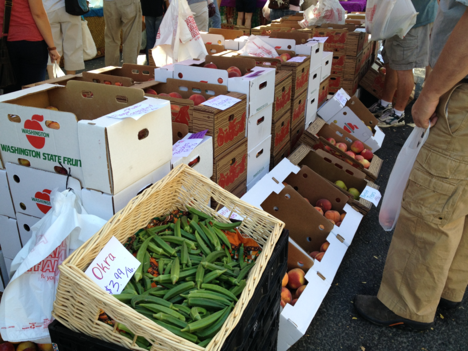 Over to Pullman WA to visit Ferdinand's and buy some of their Cougar Gold cheese and some ice cream.  
Up through the "Palouse" to the town of Palouse WA to shop in some antique shops and take a guided tour of the Printing and Newspaper museum (reminded Peg of her Dad's print shop at Myron T. Herrick Jr. High).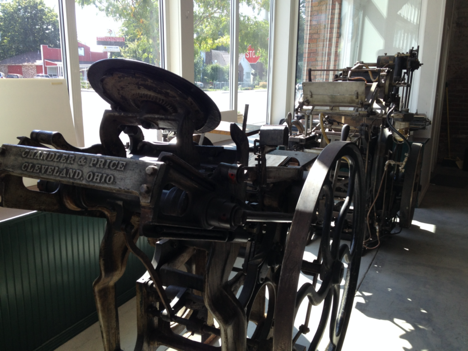 In Coeur d'Alene we splurged and stayed 3 nights at the Roosevelt Inn B & B in the Gordon Ramsey suite.  The owners agreed to have Gordon Ramsey and his staff put them through a ringer to get on his show Hotel Hell (or something like that) and get some publicity and renovations done.  Our room was one of the improvements from the show.  
We got up early every morning, had coffee by the lake, enjoyed nice breakfasts at the Inn, ate twice at Seasons restaurant, hiked to the summit of Tubbs Hill, antique shopped a little, relaxed and went over to Spokane to re-visit a postcard shop and do some laundry.
~~~~~~~~~~~~~~~~~~~~~~~~~~~~~~~~~~~~~~~
Sept 4-5: Yellowstone National Park 
Stayed in one of the "lodge" buildings at Grant Village (no TV, no internet but very clean, quiet and practical).  Woke up to 39 degrees both mornings. Attended a ranger program about the wolves in Yellowstone.  Explored geysers, waterfalls.  Saw bison, coyote, elk.  Highlights were Norris Geyser Basin, Artists Point, Black Sand Basin - had it all to ourselves at 7am and 4 bison walked by looking for breakfast:

Later that day one of those big guys demanded to cross the street in front of us:

~~~~~~~~~~~~~~~~~~~~~~~~~~~~~~~~~~~~
Sept 3: Wyoming - finally "out west"
Cheyenne Wyoming had several of these big boots around town:
In Casper we went to the Museum of Interpretive Trails.  Great interactive exhibits where you could experience the joys and hardships of the people who passed through this area while traveling on the Gold Rush, Mormon, and Oregon Trails.  Hiked along the North Platt River this evening. 
~~~~~~~~~~~~~~~~~~~~~~~~~~~~~~~~~
Sept 2: Kansas - long and hot drive
Drove 550 miles across Kansas (104 degrees) to our overnight stop in Goodland Kansas where they had a giant Van Gogh Sunflower painting:


Earlier in the day we made a stop at the Sternberg Museum of Natural History in Hays Kansas where we enjoyed an interactive/hands on visit and lessons about dinosaurs.  Photo below shows us in the museum - they had a "FanCam" set up where we took our picture and it was posted to the museum's Facebook page:
~~~~~~~~~~~~~~~~~~~~~~~~~~~~~~~~~~~~~~
Aug 30-Sept 1: Collinsville Illinois - St. Louis Gateway Postcard Club Show.  We bought some postcards, sold a small amount and visited with the other postcard dealers.  Lots of rain and a tornado warning on Friday.  The dealers in the background of this photo had their van broken into while they were in a restaurant.  Postcards, cash box and her purse!  Why people leave purses in cars I will never understand.  Drove to Columbia MO for overnight at a nice motel but it had a broken water main so we were given lots of bottles of water.  Photo below shows Buzz in our booth while one of our regular customers shops.